Linda Littenberg
Linda Littenberg is the co-owner of A Child's Place School with her husband, Abe Littenberg. She graduated from Texas Woman's University with a bachelor's degree in Home Economics Education and while there was inducted into the Phi Upsilon Omicron National Honor Society. Linda is a certified teacher with 16 years experience in the classroom and a member of NAEYC. As an alumni parent she supports the philosophy of A Child's Place School. She has visited the schools of Reggio Emilia in Italy and uses the first-hand knowledge she gained there to help our teachers implement their ideas. Linda also brings her knowledge, experience and creativity as a photographer to our school, enhancing our programs and record keeping.
---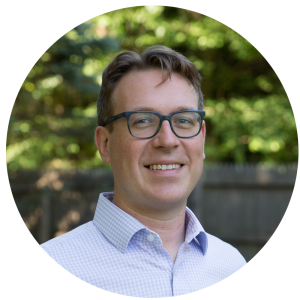 Zach joined A Child's Place School in 2019 as School Director. He graduated from New York University with a Bachelor's Degree in Music Technology, but after a short internship at a recording studio, he realized that while music technology was his hobby, early childhood education was his passion. Over the next five years he worked in the Nursery division at Horace Mann School, Manhattan; first as an assistant teacher and then collaborating with other teachers to create a new studio space using the Atelier as the inspiration. During this period Zach attended Hunter College and obtained his Master's Degree in Early Childhood Education. Zach then returned to his alma mater, Chelsea Day School, to lead a four-year old class and run the summer camp.
Marriage and the arrival of Penelope, his oldest daughter, prompted him to take a year off to be a stay-at-home dad. But it wasn't long before Zach felt the need to return to the world of early childhood education. Zach moved out of the city and landed in Toledo, Ohio where he took the position of Director of the Early Learning Center at Maumee Valley Country Day School. He brought with him his love of progressive, child-centered education, and by steadily introducing progressive concepts, including the Reggio-Emilia approach, Zach was able to double the size of the program. At this point, Zach and his wife Shannon welcomed their second daughter, Juniper, into the world. Life was good but the family was ready for another change.
In 2018 Zach was again on the move, with this adventure taking the Klausz family out west to California. In the Palm Springs area he took on the familiar role of Director of a preschool program in a larger independent school. Though the family enjoyed the warm climate, they missed the East Coast where Zach grew up and the majority of his extended family still live. Zach is extremely excited to be a part of A Child's Place School and feels honored to be able to carry on the rich tradition of the school.
---
Elaine Athanasiou
Elaine Athanasiou joined A Child's Place as Administrative Assistant to Mary in 2012 although over the previous two years she had worked as a sub in the classrooms and covering the office when Mary was absent. Elaine has a background in business administration and bookkeeping.
---

Sarah Moore
Sarah Moore joined ACP as an Administrative Assistant in the summer of 2017. Previously she worked as the Advancement Assistant at Princeton Friends School and the Administrative Assistant to the Director at Voyagers Community School. She has a B.A. in English from Rutgers University.
---
Our Teachers
Our professional teaching staff is composed of teachers and assistant teachers. Our teachers have bachelor degrees in Early Childhood and/or Elementary Education and are certified to teach nursery and/or primary grade levels. All of our teachers have continuing education credits and in addition, they complete a minimum of 15 hours of professional development each year in order to remain current in the field of Early Childhood Education. The staff has assumed leadership in professional development, sharing their work by presenting at state and national conferences as well as hosting institutes, workshops, and roundtables for other educators.
---
Arlene Lyons
Arlene Lyons has been an early childhood educator since 1985 and joined A Child's Place School in 1992. She earned her Bachelor's Degree in Early Childhood Education at Brooklyn College in Brooklyn, New York. Arlene has presented at numerous early childhood conferences, workshops, and conventions, including NAEYC's national meeting in Dallas and California, as well as meetings at Kean University and Brookdale College, both in NJ. She has also completed Dr. Becky Bailey's Conscious Discipline training in Florida. Arlene is a master teacher in the Half Day Nursery Class.
---
Carrie Sniffen
Carrie Sniffen graduated from Kean College (now Kean University) with a dual degree in Early Childhood Education and Psychology. She joined ACP in 1992 and taught for 12 years before leaving for an extended maternity leave of five years, returning in 2009. Carrie is the head teacher and classroom supervisor of the school, and a master teacher and team leader in the All Day Nursery. She has worked with children at all age levels at A Child's Place School. The children appreciate her ready sense of humor and parents appreciate her commitment to the safety and well-being of their children. Carrie has presented at NAEYC's national conference in California. Carrie's daughters both attended ACP.
---
Debbie Piescor
Debbie Piescor is a master teacher and has been the lead teacher in the Primary Program and a teacher in the Half Day Nursery. She is also the Curriculum Specialist for the school. She has been teaching since 1995, and joined A Child's Place School in 2002. She holds a B.A. in Elementary Education & Psychology.  Debbie has given presentations for the professional development of educators at several NAEYC conferences at the state and national level including this school year. She has also completed Dr. Becky Bailey's Conscious Discipline training in Florida, as well as attending numerous professional development institutes, conferences, workshops, and training experiences in order to maintain an in depth knowledge base in all areas pertaining to early childhood education.
---
Susan Wien
Susan Wien has been teaching since 1983 and has been a master teacher at A Child's Place since 1993. She has a B.A. and a Master's Degree with graduate honors in Early Childhood Education from Brooklyn College in Brooklyn, New York. She has presented at A Child's Place School Institutes for Educators from New Jersey and neighboring states, as well as at local colleges, conferences, and workshops. She has also presented at the state NAEYC conference in Atlantic City. Susan is a master teacher in the Half Day Nursery.
---
Babs Ponder 
Babs Ponder joined A Child's Place in 2011 and has a bachelor's degree from Johnson and Wales University in Food Service Management and an AAS in Baking and Pastry Arts, which brings another unique perspective to our program. She has an enthusiasm for working with children which is enhanced by the calm relaxed manner in which she interacts with them. Babs is a teacher in the Toddler Program.
---
Caitlin McGrath
Caitlin McGrath joined A Child's Place School's permanent staff in 2014, although she had been a familiar face within our school since 2010, having regularly worked as camp counselor and life guard during the summer, and substitute teacher during the school year. She holds a bachelor's degree in Secondary Education/History from The College of New Jersey. Caitlin completed thirty hours of Orton-Gillingham training summer of 2017. Caitlin is a teacher in the Primary Program.
---
April Davis
April Davis joined A Child's Place in 2017. She holds a BA in Journalism from Indiana University and an MS in Journalism from Columbia University. After working in broadcast journalism as a producer and writer for several years, April returned to school and earned her MA in Early Childhood Education from New York University. She worked as a Pre-K teacher at Sea Girt Elementary School, where she introduced a new curriculum, started a daily blog, and wrote weekly newsletters. She also worked as a substitute teacher at Monmouth Montessori Academy. April is a teacher in the Primary Program, where her personable teaching style, spirit of collaboration, and writing skills are put to good use.
---
Sharon Rarig
Sharon Rarig joined A Child's Place in 2013. She holds a bachelors degree in Health and Physical Education from Slippery Rock University. Outside of raising her children, Sharon has taught physical education to students in Pre-K through 12th grade and has also been a substitute classroom teacher. Sharon is an assistant teacher in the All Day Nursery.
---
Karen Mancini
Karen was hired in 2003 as a teaching assistant. In 2011 she became a Teacher in the Primary class. She has an Associate's Degree in Teaching Assistance and Child care.  She retired in 2015 but returned to ACP as a teacher in the Half Day Nursery. Karen is very pleased that her grandson joined ACP in the nursery last year. We are thrilled to have her back with us!
---
Alyssa Palma
Alyssa Palma joined A Child's Place in 2018. Alyssa was previously a substitute teacher at Metuchen Christian Academy. Before that, she was a second grade teacher at Arleth Elementary School. She earned her Bachelor of Arts in Family & Child Studies from Montclair State University, where she was a member of several honor societies. Alyssa is an assistant teacher in the Half Day Nursery.
---
Kathy Berkowitz
Former director of A Child's Place School, Kathy Berkowitz brings decades of experience to our ACP Toddlers program.  Kathy's warm demeanor and gift for working with young children and their families ensures a high-quality program tailored to this special age group. Kathy was director of the Kean University Child Care and Development Center, a Reggio Emilia-inspired school, for seven years before joining A Child's Place. She also holds a principal and supervisor certificate. Kathy is a member of NAREA, NAEYC, ASCD, and NJEEPRE (New Jersey Educators Exploring the Practices of Reggio Emilia) where she was also served as a Chair. In 2009, Kathy participated in the North American Study Tour to Reggio Emilia, Italy, and in 2013 she was awarded the NJ Child Care Association Director of the Year Award.
---
Rosanne Zito
Rosanne Zito is a valued A Child's Place staff alumna who taught here regularly for many years and has continued to do substitute teaching since she stopped working full time. She also serves as the teacher facilitating the Fridays Are Special program.
---
Dave Meinberg
Dave Meinberg joined our staff as our Assistant Facilities Manager in 2015. Dave is Linda and Abe's brother-in-law and his late wife Barbara was the school's director for seven years. Dave is a retired Chief Master Sergeant from the US Air Force. He spent 30 years in the military and four years as a civil servant. During this time he was stationed primarily in Europe. Dave has been lending a helping hand at our school for a number of years but officially became a staff member in 2015.
---